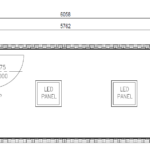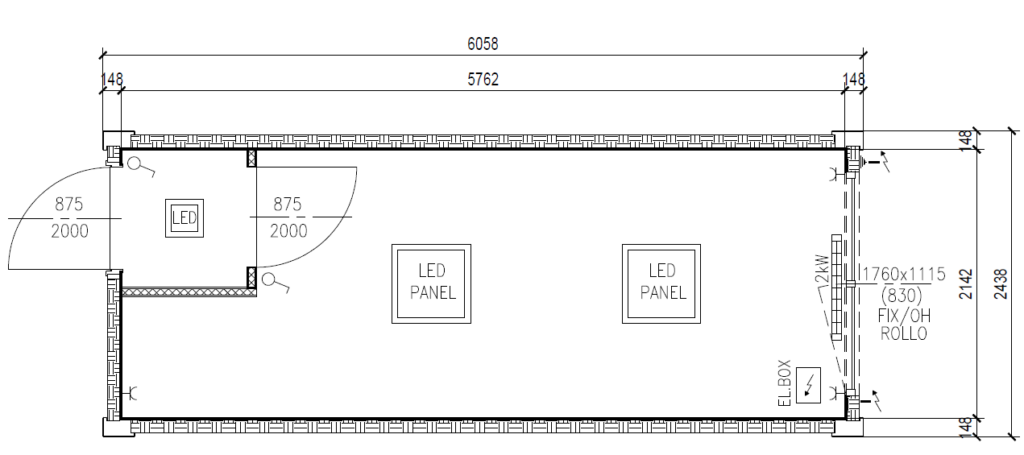 RESIDENTIAL MODULE B2 – 2500
DIMENSIONS
Outer: L: 6,058 mm, W: 2,438 mm, H: 2,800 mm
Inner: L: 5,762 mm, W: 2,142 mm, H: 2,501 mm
FRAME
R4, bolted frame
Stacking capacity up to three floors: ground floor + first floor + second floor
colour RAL 9002
Floor load: 250 kg/m2, snow load: 100 kg/m2
Rainwater pipes from the roof are integrated in the corner posts.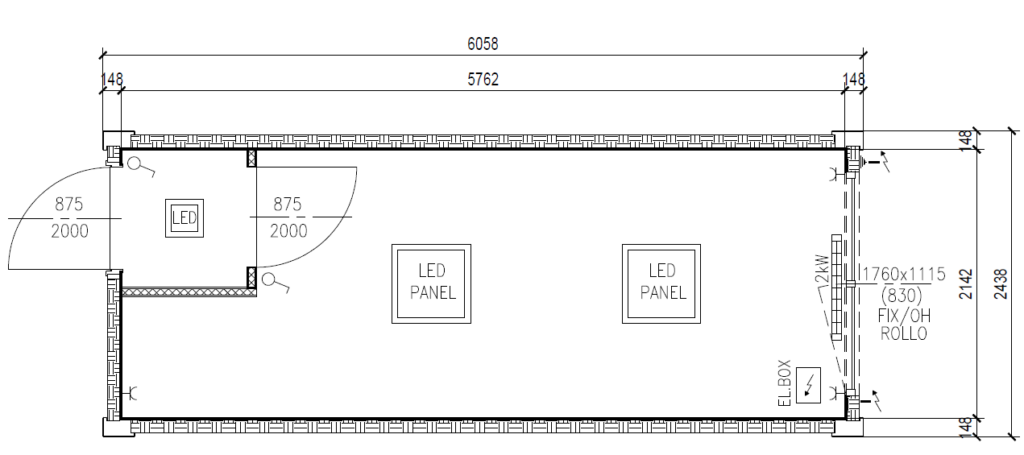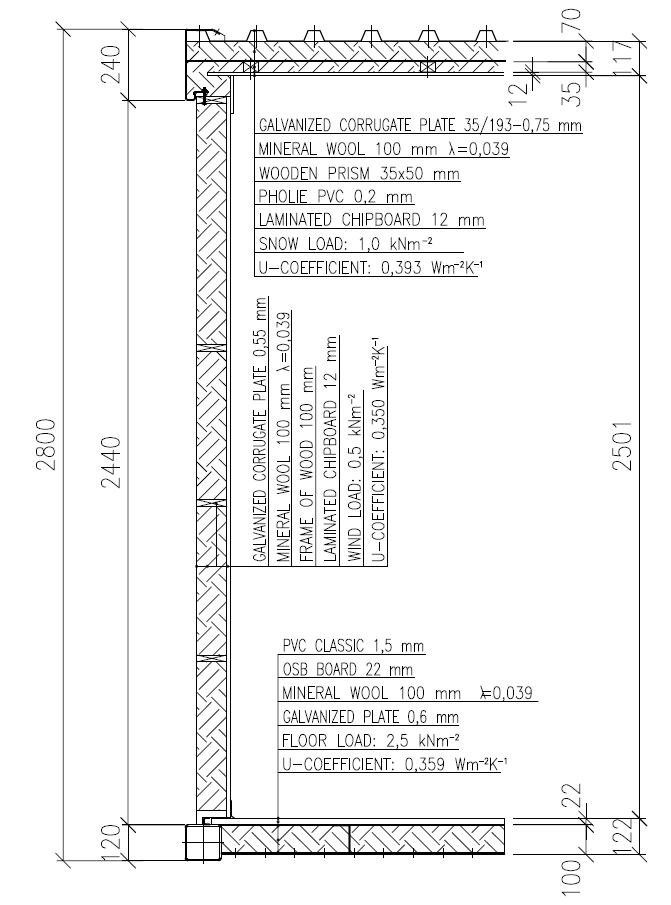 THERMAL INSULATION
Mineral wool with thermal conductivity coefficient λᴅ = 0.039 W/m∙K
Floor/wall/ceiling: 100/100/100 mm
Values: floor = 0,359W/m2K, wall = 0.350 W/m2K,
ceiling = 0.393 W/m2K
WALLS
Replaceable panels (14 units)
Outside: trapezoidal zinc-plated lacquered sheet metal, colour RAL 9002
Inside: laminated chipboard, white, thickness 12 mm
Wind load: 0.5 kN/m2
Residential spaces of various sizes can be created by removing the wall panels and connecting individual modules together.
FLOOR
OSB floor panel, thickness 22 mm,
Floor covering: PVC, 1.5 mm, R9, light grey
ELECTRICAL INSTALLATIONS
Standard ČSN, 3 x mains socket outlets, 2 x switches
Power supply socket and plug on the frame
Lighting: 2 x LED lights, 600 x 600 mm, 40 W
1x LED light 330 x 330 mm, 24 W
Heating: 1 x electrical convector, 2 kW
Plastic, double wing window, 1,760 × 1,115 mm, OS/FIX,
Plastic, double wing window
DOOR
Steel door W: 875 mm, H: 2,000 mm,
Steel door frame with no counterpart
Colour RAL 9002 inner/outer
Internal door with honeycomb core W: 875 mm, H: 2,000 mm
FACILITIES
as B1, but with additional vestibule
OPTIONS FOR RESIDENTIAL MODULES FOR A SPECIAL FEE
- Air-conditioning unit
- Colour RAL as per the customer's preferences
- PVC as per the customer's preferences
- Window and door guard grill
- Power supply socket and plug embedded in the panel
Ask us
Fast and unbound!
Are you interested in our production program, but not sure if this is right for you? There is nothing easier than to contact us. With one of our experienced dealers you will quickly find out everything you need!
Ask