Production of WAREX swap bodies
We have been manufacturing swap bodies in our own production plant in Javorník since 2018.
Swap bodies can be grouped with inter-modal transport units (UTI), which are suitable for European combined transport by road, rail, inland waterway and maritime transport.
Swap bodies are a very modern and efficient means of transport for combined transport, reducing the means of transport to a minimum and no crane is required for loading on the road.
The system of swap bodies allows you to minimise the downtime of vehicles and to combine multiple modes of transport, thus minimising the burden on the environment and reducing the traffic load on roads. The use of swap bodies eliminates the need to use handling equipment when loading on the customer's road transport.
WAREX swap bodies comply with all required standards and regulations and are certified by the International Organization for Standardization.
Length:

7,450 mm
Width:

2,550 mm
Height:

2,750 mm
Height including support legs:

3,720-4,070 mm
Total transport (operating) weight:

18,000 kg
Floor strength for handling with a forklift up to:

5,460 kg
Technical description (pdf)
WAREX swap body components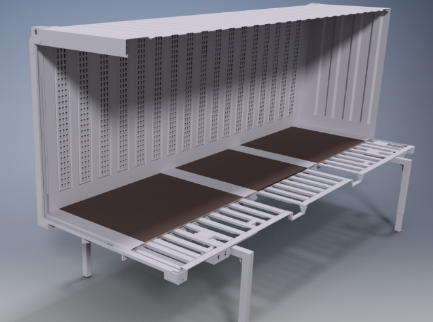 Floor
The floor consists of closed 3 mm-thick steel profiles, in the S235 JRH quality. Waterproof plywood of 21 mm thickness is used for the walkable layer. This combination ensures a high load capacity that allows the floor to be loaded up to 5,460 kg.
On the bottom part there is a 600 mm wide guiding tunnel made of closed profiles, which is used to direct the vehicle trailer during loading. Furthermore, there are openings for forklift handling and security elements for safe transportation. In the front there is a sliding ladder and a document box. There is a bumper in the rear to prevent mechanical damage while loading.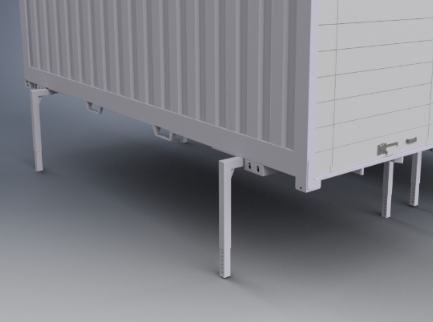 Supporting legs
These are a high-quality product from a renowned German company, which meets all safety standards, has high stability and easy handling when driving under them.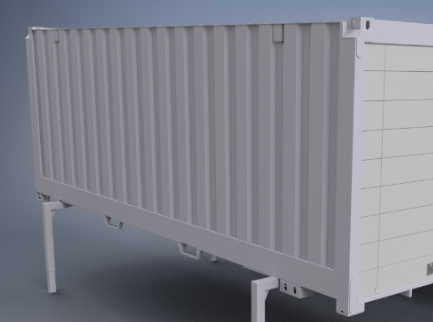 Side walls
The supporting frame is designed from bent profiles 3–4 mm thick. The external walls are made of profiled sheet metal with a thickness of 1.5–2 mm, which guarantees sufficient strength according to ČSN EN 283.
Air circulation is provided by four air vents located at the top of the longitudinal walls.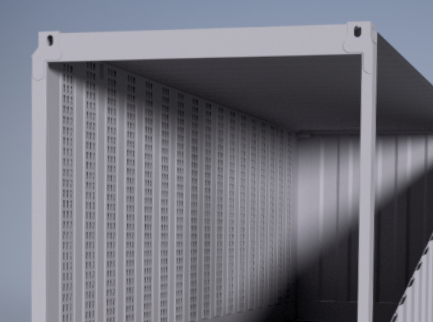 Securing cargo
On the inner walls there is a system of clamping holes, which guarantees enough possibilities and their combinations to secure any kind of load.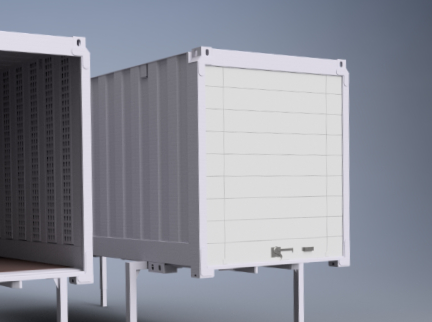 Sectional doors
The main entrance to the swap body is made of aluminium roller door that extend inwards under the roof structure. They enable the use of the entire clear passage of the swap body for loading.
Additional information
Surface treatment and labels
The corrosion protection system is prepared based on ISO 12944-5

The painting system for corrosive environment C4–M is according to standard 12944-2

Two-component epoxy base, min. 80 µm

Two-component polyurethane topcoat, RAL 9010, min. 100

Advertising labels can be made according to the customer's wishes

Safety marking according to ČSN EN 283 and 284
The principle of loading and unloading on the vehicle
Using the vehicle's hydraulic system,the swap body is raised to extend the support legs. The driver then comes out with the trailer and the swap body remains standing on the support legs separately.
Other handling methods
Handling can be done by means of side grippers, rope suspensions, but also by classic gantry cranes or other handling means as with conventional containers.
Our production meets the following standards and regulations
CEN/TS 138553
swap bodies dimensions, design requirements, testing
ČSN EN 284
dimensions and general requirements
ČSN EN 283
swap bodies testing
Ask us
Fast and unbound!
Are you interested in our production program, but not sure if this is right for you? There is nothing easier than to contact us. With one of our experienced dealers you will quickly find out everything you need!
Ask